School Reunions
School reunions are a way to rekindle old friendships, refuel past crushes and reconnect with classmates who you have lost touch with over the years. Reunions can help you to recall old memories, reminisce about the past, and discover the accomplishments and successes of your classmates. Is the class clown still the life of the party? Is Mr. Most Likely to Succeed really a CEO of a multi-million dollar corporation? Did the class president pursue a career in politics? Is the cutest couple married with four kids?
By using these social networking sites, you can find your classmates and reconnect now!
At ReunionCapitalUSA, we offer a plethora of reunion ideas, activities, locations, venues, and planning tools for the perfect school reunions. Prince George's County offers once-in-a-lifetime memories for you and your schoolmates. All the information you need is right here at your fingertips!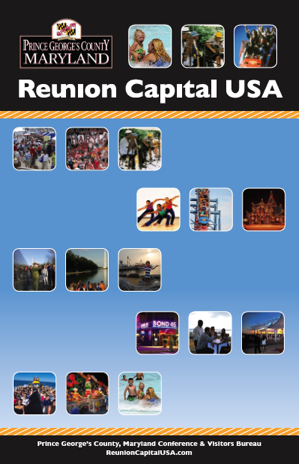 Download a copy of our Reunion Planning Guide or view as a turn-page version here
Whether your friends are looking for a panoramic view of the Potomac River at the Gaylord National Resort or want something quaint and comfortable at one of the area's bed and breakfast inns, Prince George's County has hotels, inns, and campgrounds to suit every reunion's size, preferred amenities and budget!
---
Prince George's County is in the heart of the Washington, D.C. metropolitan area, offering easily accessible methods of transportation for your reunion party!
Transportation options include over 70 Metrorail routes in the County, 86 Metrorail stations throughout the metropolitan area, and a local system available Monday through Friday.
In addition, three international airports are easily accessible to Prince George's County: Baltimore/Washington International Thurgood Marshall Airport (BWI), Ronald Reagan Washington National Airport (DCA), and Dulles International Airport (IAD).
It's Time To Bring Back Memories
Planning a high school or college reunion can be an exciting venture that will put your creative and organizational skills to the test! The planning process can actually be quite fun if the proper resources are at your disposal. We want to make things easy, fast and efficient.
Why plan a reunion in Prince George's County? Perhaps a better question would be, why not?As the Reunion Capital of the country, Prince George's County offers a wide range of activities and venues to accommodate everyone, from the young-at-heart to the outdoors adventure guru. Located in the heart of Maryland, Prince George's County has it all! From its trendy and new wave dining and shopping experiences to its latest architectural empire overlooking the gorgeous Potomac River, the Reunion Capital has it all. Whether you are gathering up the sorority sisters for a once-in-a-lifetime bonding trip or reuniting with your buddies from the college days, plan your reunion here!
---
Reunite
After 10 years or more, it may be difficult to find everyone from your high school class or college fraternity. Check out our list of schools to join your alumni associations or to find the contact information you need to reconnect and reunite!
Whether your group is full of Italian-loving friends or they prefer a more lean cuisine, Prince George's County has dining options to suit everyone's tastes. From spicy Tex-Mex dining to fine Thai fare, you can plan the perfect reunion meal by checking out our list of restaurants and dining options in Prince George's County.
---
Want to have fun while spending quality time catching up with friends? Why not visit National Harbor, an incredible 300-acre waterfront destination just minutes from downtown Washington DC, set along a 10 mile panoramic stretch of the Potomac River in Prince George's County? National Harbor offers an array of delectable dining spots and quaint shops on the Potomac, as well as events and entertainment to delight and amaze you.
Do you have a group full of sports fanatics? Prince George's County offers a wide range of professional, college, amateur and recreational sports and is home to FedEx Field and the NFL's Washington Redskins, Bowie Baysox Minor League Baseball and the University of Maryland Terrapins.
If thrill seeking is what your friends enjoy, then Prince George's County is the perfect place for excitement and adventure to satisfy your rush! Six Flags America®. the Washington, DC metropolitan area's only theme park. Features over 200 acres of family fun and excitement. There are over 50 thrilling rides, shows and attractions including the Batwing, Superman Ride of Steel, Joker's Jinx, Mind Eraser, and the top-rated "Wild One" wooden coaster.
Trying to fit in your exercise regimen while bonding with friends in the great outdoors? Prince George's County offers over 90 miles of hiking and biking trails and over 8,000 acres of developed parkland, perfect for the nature enthusiast!
Looking for a place where modern beauty intertwines with historical significance? Prince George's County offers a place for history buffs of all kinds. From the Airmen Memorial Museum to the Montpellier Mansion, your guests will enjoy the beauty of the region while reminiscing on our nation's remarkable past.
Feel like taking in a show with the girls? A night of comedy with the boys? The Clarice Smith Performing Arts Center offers app